Page By page Book Club
Page by Page, the intermediate ELL book club, meets every Wednesday at 1 pm on Zoom. Each week, we discuss a few chapters from the book until we have read it all the way through.
Current selection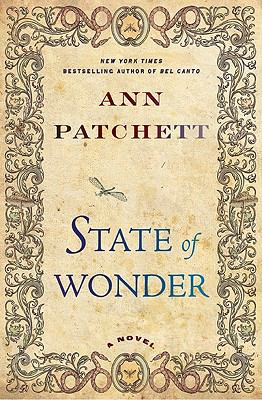 We'll read about 30 pages a week of this book starting August 2, 2023. Copies to keep are available at the Reader's Advisory Desk, and ebook and audiobook versions are also available through Libby.
A researcher at a pharmaceutical company, Marina Singh journeys into the heart of the Amazonian delta to check on a field team that has been silent for two years–a dangerous assignment that forces Marina to confront the ghosts of her past.
Previous Selections
October-December 2021 – Charlotte's Web by E.B. White
December 13 2021 – "Fish Cheeks" by Amy Tan (short story)
January-February 2022 – Great Illustrated Classics: The Wizard of Oz by L. Frank Baum. Adapted by Deirde S. Laiken and illustrated by Pablo Marcos Studio.
February-May 2022 – A Man Called Ove by Fredrik Backman
May-August 2022 – The Alchemist by Paulo Coelho
August-September 2022 – The House on Mango Street by Sandra Cisneros
September 19, 2022 – "The Story of an Hour" by Kate Chopin (short story)
September 26, 2022 – "Thank You, Ma'am" by Langston Hughes (short story)
October 2022 – The Midwife's Apprentice by Karen Cushman
November 2022 – The Gift of the Magi by O. Henry (short story)
December 2022 – "A Jury of Her Peers" by Susan Glaspell (short story)
January 2023-February 2023 – The Guernsey Literary and Potato Peel Pie Society by Mary Ann Shaffer
March 2023 – Bud, Not Buddy by Christopher Paul Curtis
April 5, 2023 – "One Boy Told Me" by Naomi Shihab Nye (poem)
April 12, 2023 – "The Necklace" by Guy de Maupassant (short story)
April-June 2023 – Hidden Figures by Margot Shetterly
July 2023 – Our Souls at Night by Kent Haruf
August 2023 – State of Wonder by Ann Patchett