Teen Events at Plymouth Library
Reviews
8 Great Games You May Not Know About
Everybody knows the bittersweet feeling of completing something great. That thing could be a show, a movie, or a book. For me, it was video games. To ease that empty feeling, here's a list of 8 great games you might not know about:
1: Donut County 
Age rating: 10+
Donut County is a simple game about opening holes on people's property. You can move these  holes around and swallow up items in the area. As you eat more and more, the hole grows. 
2: Turnip Boy Commits Tax Evasion 
Age rating: 10+
Yeah, I couldn't believe this was a thing either. In short, you play as Turnip Boy and work to erase your debt from evading taxes. Fans of The Legend of Zelda series will enjoy this game.
3: Death and Taxes
Age rating: 12+
Sticking with the theme of taxes, let's travel to the afterlife. Here, you work as a grim reaper, deciding who lives and who dies. Make the right decisions and try to keep the human world in balance!
4: Untitled Goose Game
Age rating: Everyone 
In this game, you play as a goose. (Wow, who would've guessed?) Much like a real goose, your main objective is to ruin the day of every human you encounter. Spare none in your path. 
5: Horizon Zero Dawn
Age rating: 15+
In a world overrun by dangerous machines, one hunter sets out to explore the past. You play in an open world filled with ancient, powerful machines. Find out what happened to this world, and what all this technology really means.
6: West of Loathing 
Age rating: 12+
If a game has its official cover art as a stick figure cowboy, it takes itself very seriously. In this wild west, there's no telling what could happen. Fight in turn based combat against cows, skeletons, goblins, and even demons. The perfect game if you're looking for a laugh.
7: Before Your Eyes
Age rating: 15+  
Before Your Eyes is a beautiful game about retelling a tragic life. The selling point of this game is that if you blink, the game jumps forward. Get your eye drops ready and check out this magnificent game. 
8: What Remains of Edith Finch
Age rating: 16+
This game is a collection of memories that show the unusual deaths of the Finch family. The Finch family is cursed to have every member of a generation die, except for one who carries on the curse to the next generation. 
If you decide to play any of these, I truly hope you enjoy them. My personal favorites from this list are Untitled Goose Game and Horizon Zero Dawn. Thank you for reading, happy gaming.
— Michael
Movie & TV Reviews
In honor of LGBTQ+ month, here are some movies to watch with LGBTQ actors and characters.
This is an action packed thriller. Bella, who transferred to high school in a city called Forks, unexpectedly becomes acquainted with a friend who is not at all what she expected. She develops a relationship with him and his family and feels like she belongs with someone for the first time. This movie is bound to keep you entertained.
By far one of the most interesting Marvel movies out there, solely for the fact that Tom Hiddleston's character, Loki, is extremely unpredictable and will surprise you in more ways than one. The movie has so many cool twists and turns and is very funny. The overall plot is Thor and Loki siding together to defeat their evil and extremely powerful sister. The brothers' relationship takes many hilarious pathways and it for sure will keep you interested.
This is a sequel show to Avatar. Korra is the newly choses Avatar and travels to the Earth Kingdom, which is a very advanced place in order to learn the ways and defend against evil. She is a fun and spirited girl and has trusty friends to help her defend the Earth Kingdom as well as the FIre Nation against evil. She too goes through obstacles that make her stronger and teach valuable lessons to viewers of all ages. This is a child friendly show and one that youths can learn many morals and lessons through.
– Nikhita
Music Review
According to Lorde, Melodrama is an album that "follows the emotions and events that happen at a house party". An electropop record that incorporates piano melodies, synthesizers, and electronic beats, it is drastically different than its predecessor, the more hip-hop-influenced Pure Heroine. Dealing with emotions from the aftermath of a breakup, Melodrama deals with aspects of solitude and heartbreak, all too common after the dissolution of a relationship. The opening track "Green Light" tells the story of drunken nights out at a bar, missing but also being resentful of an ex.  Lorde's first heartbreak is painfully told in all these songs, and so is the intensity of the feelings felt. Lorde sings about how even though she is at an age where she isn't considered a teenager anymore, she still feels the full force of her first heartbreak, and how she's able to act out her emotions. Instead of being in her room mourning over a lost love, she's now in a bar, although she feels the exact same sadness. Lorde is being a person and acting out her experiences, living her own youth full of heartbreak and embarrassment. One track that especially stood out to me was "Supercut, " where she reminisces on her lost relationship by thinking of the happiest moments of it, realizing that she's just picking the good parts of the relationship while forgetting all the bad ones, hence the title. In "Liability, " she sings about the feeling of not being good enough, being too complicated and messy to be able to find love, a feeling probably everyone has experienced at one point in time. The album as a whole goes through all the emotions, from feeling free, lonely, confused, and sad at the same time. Lorde is able to bring a universal connection to everybody that's ever been in love and lost it, and she does it effortlessly just by writing what she feels. – Nadinne
Podcast Reviews
Pride Month is upon us, so, this month's selection of podcasts are all fictional stories containing LGBTQ+ representation in some way. Happy Pride Month, and enjoy!
The Adventure Zone
Do you love D&D and other role-playing games? Do you adore fantasy and magic? And are you the one that always gets mad when people don't follow every single rule? Well . . . this podcast has two of those things. The Adventure Zone is an actual-play TTRPG (tabletop role-playing game) podcast hosted by the McElroy brothers and their dad. Together, they take games like D&D and turn them alchemy-like into laughs, tears, and general storytelling genius. From jellyfish that steal your memories to large cats that eat magical energy, you'll find a little bit of everything (and lots and lots of elevators). They also cover a wide variety of genres, so if you don't like one story, then you can easily find another one, and with hundreds of episodes and more being produced, there's a huge backlog to listen to.
Found on iTtunes, Spotify, and wherever podcasts are sold, join the McElroys on a journey into the unknown in . . . The Adventures Zone!
*Content note: This podcast may not be suitable for younger children.
Welcome to Night Vale
Night Vale is a typical desert  town. It has everything that a normal town has: chain restaurants like Pizza Hut and Arby's, a bitter rivalry with another town's sports teams, and a five-headed dragon running for mayor. Every town has these things, right? Right? Either way, join radio host Cecil Palmer in his bimonthly radio updates from Night Vale, a town where helicopters take children away for unknown purposes, a glow cloud is a member of the PTA board, and dogs are not, under any circumstances, allowed in the dog park. These may seem like causes for alarm, but are merely just aspects of daily life in Night Vale.
Lock your doors, close your blinds, and turn on the radio to remind yourself that you are nothing but a collection of large crows in a trenchcoat. Welcome . . . to Night Vale.
The Magnus Archives
Horror is extremely popular these days, but a lot of it is purely gore and jump scares. The Magnus Archives, a horror podcast set in London, is a major break from this. Delve into the archives of the Magnus Institute, an organization that researches the weird and unexplainable. Join new archivist Jonathan Sims as he sorts through the jumble of supposed accounts of the many things that go bump in the night, writing most of them off as ruses or products of late-night drunkenness. Eventually, though, he realizes that there may be more to these stories than he thought . . . 
"Make your statement, face your fear" before it turns around and faces you (which is objectively worse) in The Magnus Archives.
— Delaney
Graphic Novel Reviews
As a celebration of Pride Month this year, all the graphic novels following feature LGBTQIA+ characters. 
Half woman, half hawk, the demon outlaw Ghost Hawk has the stage drivers of the 1861 New Mexico Territory quaking in their boots. When trans runaway Grace is snatched from her coach during a shakedown, she learns that the notorious Ghost Hawk is a normal, totally-not-a-demon woman Flor. Together, they plan to pull off a heist of Confederate plans. 
Stage Dreams is a historical fiction graphic novel done all in colored pencil. Each page pops with detail, the delicate shading and bright colors giving the graphic novel a welcoming storybook feel. The colored pencils also lend a remarkable rough texture to the art, which feels very apt for 1800s New Mexico.
If you're interested in the history behind the fiction, the author has included their commentaries and research about the roles of women, people of color, and trans people in the Civil War period in a section at the end of the graphic novel–I guarantee you'll learn something new.
Stage Dreams isn't available at the Plymouth Library, but it's a great opportunity to learn how to use the MeL Interloan system to check it out from another local library!
Swoop down on Stage Dreams for a short and sweet story about two spectacular women spies during the Civil War. 
Illustrated with bright and vibrant colors, Mooncakes is sparkling with life and glittering with magic. 
Nova Huang, a young witch who works in her grandmothers' bookstore, follows reports of strange lights to a dark and foreboding forest. When she's attacked by a six-legged, many-eyed horse demon, she fights it off with the help of a large white wolf–her long-lost werewolf friend and childhood crush, Tam Lang. With Nova's help, Tam must explore their inherent wolf magic to seal the demon away forever–before figures from Tam's past take advantage of their wolf magic instead. 
The magical universe that Nova and Tam live in is intriguing, with werewolves, bird men, witches, ghosts, and more. It's expansive enough that it's exciting to read about that universe and wonder what else could be going on there, even if the actual plot is a bit barebones. The adorably drawn forest creatures don't hurt either! 
If you're itching for a graphic novel full of magic, family, and trust, take a bite out of Mooncakes. 
Baking bread is an exceptional experience, if you've never done it. While you wait for the flaky fruits of your labor to finish baking, the heavenly aroma wafts slowly throughout your home, accompanied by a toasty warmth from the oven. That's what the graphic novel Bloom is about, in terms of both content and feel. 
Ari works for his family's struggling bakery, but he'd rather be chasing his dreams with his band out in the city. So, he decides to hire and train his own replacement: a young man named Hector who's taking a year off from culinary school. Hector shows Ari how to love baking again, and maybe something else, too. 
Bloom is written with very precise storytelling–no detail goes ignored. The supporting cast receives the same treatment, so each character has an expressive and natural personality. And while the story has a penchant for the particulars, there's a surprising amount of detail in the art as well. Bloom's all-teal illustrations highlight baking in a delectably detailed fashion that might leave you eager to bake something yourself. 
Can a graphic novel tell a grounded and good-natured romance? Bloom is more than willing to rise to the challenge. 
— Charlotte
Book Reviews
Mrs Peregrine's Home of Peculiar Children is a novel which mixes both fantasy and horror which can appeal to people of all ages.
The novel follows 16 year old Jacob Portman who grows up hearing stories about his grandfather´s childhood during WWII. His grandfather describes a remote island which is off the coast of Wales, on this island there is an orphanage which fosters children who have peculiar powers. Jacob later regulates the remains of this island and must ponder whether this island remains to uncover the truth behind the many photographs his grandfather has provided of his time at the island. Will this abandoned island? Is his grandfather´s stories true or just a figment of his imagination?
By having Jacob´s personal account throughout the whole novel, he was able to give his insight and more depth to his character and the many photographs that are shown throughout the book offer more of the horror aspect of the book as they appear quite paranormal yet intriguing. These aspects of the book contributed to one of the focuses in the novel which was the holocaust, a truly horrifying and tragic event which was during WWII, as his grandfather describes "monsters" in the novel and mystery of this island. 
Mrs Peregrine's Home of Peculiar Children is a great novel for those who are interested in fantasies with strange yet interesting characters, captivating photographs and adventure.
-Zara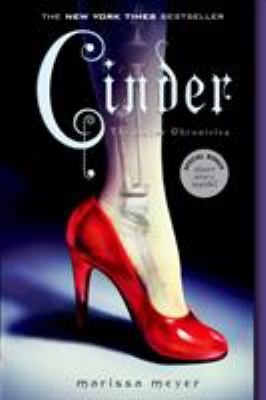 We've all heard of Cinderella´s story however, this novel gives a more futuristic perspective of Cinderella with a more realistic turn of events of a classical fairy tale.
Cinder, short for Cinderella, is a very gifted mechanic and secretly a cyborg who has been brought up by her stepmother and 2 stepsisters. Oftentimes she is underappreciated by her step mother and other step sister however her younger step sister seems to treat her like a human. Her life begins to change as she meets the charming prince Kai; this encounter leads to romantic attraction which must be avoided at all costs. However, New Beijing is hit with a deadly plague which is known to kill its citizens within days but the cure lies in the hands of the spiteful Lunar queen who has much bigger plans to rule Earth. 
Cinder´s character was executed beautifully as she was shown to be battling her human and cyborg feelings, there was a level of relatability and at times confusion with her character as well. At times in the book, her character made decisions which would be frustrating to relate to her but the novel was able to handle these moments with such perfection and offer rational explanations to help readers sympathetic with her character. Overall, Cinder was an independent, skilled and relatable character perfectly written, distinguishing her from her fairytale counterpart. 
This isn't just a traditional fairytale with an idealized romantic storyline, it offers a more futuristic plot and realism with all the characters including Cinder and Kai who deal with their own problems which appeals to the relatability of the novel. 
If you´re looking for a dystopian novel with hints of romance, then invest in Cinder as a worthwhile read. 
-Zara
Cookbooks Top 10 Food/Snack Reviews
Warm weather signals ready for Fun Summer Recipes, and time to enjoy cooking, eating and spending time with family! And to maintain a healthy lifestyle.
Do you want to try making a dough and sauce on your own? Try a delicious step by steps instructions for a four-cheese pizza or Hawaiian pizza or your own choice? Let's start the fun activity for summer with smart tips for young cooks!
Want to have fun with a smile with Noodlemania recipes and pictures? Want to have scary noodles or Silly Sea creatures or Purple Pasta Monster or Hot Dog Colored Jellyfish? Cook with humor and learn fun facts! Half a battle is over cooking and eating together!
Want an ultimate kids' cookbook from America's #1 food magazine? Have fun and easy recipes and way to the kitchen with yummy favorites like mac and cheese, French toast muffins, Taco salad, granola bars, Ham & Cheese Waffle sandwiches and more by New York Times Best Seller for young home cooks