Explore stories, essays, poems and artwork by Indigenous authors and creators. You can find these books in the Teen Zone, OverDrive/Libby and Hoopla.
Nonfiction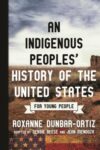 Indigenous Peoples' History of the United States for Young People by Debbie Reese
Going beyond the story of America as a country "discovered" by a few brave men in the "New World," Indigenous human rights advocate Roxanne Dunbar-Ortiz reveals the roles that settler colonialism and policies of American Indian genocide played in forming our national identity. The original academic text is fully adapted by renowned curriculum experts Debbie Reese and Jean Mendoza, for middle-grade and young adult readers to include discussion topics, archival images, original maps, recommendations for further reading, and other materials to encourage students, teachers, and general readers to think critically about their own place in history"-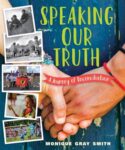 Speaking our truths : a journey of reconciliation
Author: Gray Smith, Monique
Looks like daylight : voices of indigenous kids
Author: Ellis, Deborah, 1960-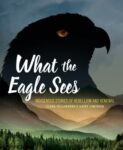 What the eagle sees : Indigenous stories of rebellion and renewal
Author: Yellowhorn, Eldon, 1956- author
Dreaming in Indian: contemporary Native American voices – edited Mary Beth Leatherdale (collective biography/memoir/artwork)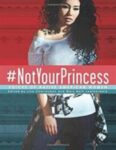 #NotYourPrincess : voices of Native American women
Editor: Mary Beth Leatherdale
Urban tribes : Native Americans in the city
Editor: Mary Beth Leatherdale
Fiction
Found by Joseph Bruchac
A teenage survival expert finds all his skills tested as he's pursued through the Canadian wilderness by men determined to silence him. On his way to teach at Camp Seven Generations, a Native outdoor school, Nick witnesses a murder and then is thrown off a train. Remembering and using the teachings of his Abenaki Elders will prove to be the difference between life and death for him. Although his pursuers have modern technology to help them, Nick has something even more useful. In addition to the skills he's learned, he has an ally in the natural world around him. Found, like the famous story "The Most Dangerous Game," is a tale that focuses on being hunted until a way can be found to become the hunter.
Killer of Enemies by Joseph Bruchac
In a world that has barely survived an apocalypse that leaves it with pre-twentieth century technology, Lozen is a monster hunter for four tyrants who are holding her family hostage.
Marrow Thieves by Cherie Dimaline
In a future world ravaged by global warming, people have lost the ability to dream, and the dreamlessness has led to widespread madness. The only people still able to dream are North America's indigenous population – and it is their marrow that holds the cure for the rest of the world. But getting the marrow – and dreams – means death for the unwilling donors. Driven to flight, a 15-year-old and his companions struggle for survival, attempt to reunite with loved ones, and take refuge from the "recruiters" who seek them out to bring them to the marrow-stealing 'factories.'"–
Give Me Some Truth by Eric Gansworth
In 1980 life is hard on the Tuscarora Reservation in upstate New York, and some of the teenagers feel they have fewer options than they'd like: Carson Mastick dreams of forming a rock band, and Maggi Bokoni longs to create her own conceptual artwork instead of the traditional beadwork that her family sells to tourists–but tensions are rising between the reservation and the surrounding communities, and somehow in the confusion of politics and growing up Carson and Maggi have to make a place for themselves.
If I Ever Get Out of Here by Eric Gansworth
Seventh-grader Lewis "Shoe" Blake from the Tuscarora Reservation has a new friend, George Haddonfield from the local Air Force base, but in 1975 upstate New York there is a lot of tension and hatred between Native Americans and Whites–and Lewis is not sure that he can rely on friendship.
Hearts Unbroken by Cynthia Leitich-Smith  When Louise Wolfe's boyfriend mocks and disrespects Native people in front of her, she breaks things off and dumps him over e-mail. She'd rather spend her senior year with her family and friends and working on the school newspaper. The editors pair her up with Joey Kairouz, an ambitious new photojournalist, and in no time the paper's staff find themselves with a major story to cover: the school musical director's inclusive approach to casting The Wizard of Oz has been provoking backlash in their mostly white, middle-class Kansas town. As tensions mount at school, so does a romance between Lou and Joey. But 'dating while Native' can be difficult. In trying to protect her own heart, will Lou break Joey's?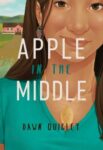 Apple in the Middle by Dawn Quigley
Apple Starkington turned her back on her Native American heritage the moment she was called a racial slur for someone of white and Indian descent, not that she really even knew how to be an Indian in the first place. Too bad the white world doesn't accept her either. Apple reluctantly agrees to visit her Native American relatives on the Turtle Mountain Indian Reservation in northern North Dakota for the first time. Apple learns to deal with the culture shock of Indian customs and the Native Michif language, while she tries to find a connection to her dead mother. Bouncing in the middle of two cultures, Apple meets her Indian relatives, shatters Indian stereotypes, and learns what it means to find her place in a world divided by color.
How I became a ghost : a Choctaw Trail of Tears story by Tim Tingle


A Choctaw boy tells the story of his tribe's removal from the only land its people had ever known, and how their journey to Oklahoma led him to become a ghost–one with the ability to help those he left behind.
In the footsteps of Crazy Horse by Joseph Marshall
Teased for his fair coloring, eleven-year-old Jimmy McClean travels with his maternal grandfather, Nyles High Eagle, to learn about his Lakota heritage while visiting places significant in the life of Crazy Horse, the nineteenth-century Lakota leader and warrior, in a tale that weaves the past with the present. Includes historical note and glossary.
Graphic novel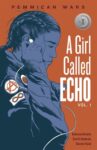 A girl called Echo. 1, Pemmican Wars by Katherena Vermette
While adjusting to a new home and school, Echo finds herself traveling back in time to 1816 in the middle of a Métis bison hunt on the Saskatchewan prairie just before a deadly battle.
Resources
Author Cynthia Leitich Smith
American Indians in Children's Literature (AICL) –
American Indian Librarian Associations: Youth Literature Award
11/20/2020/bd