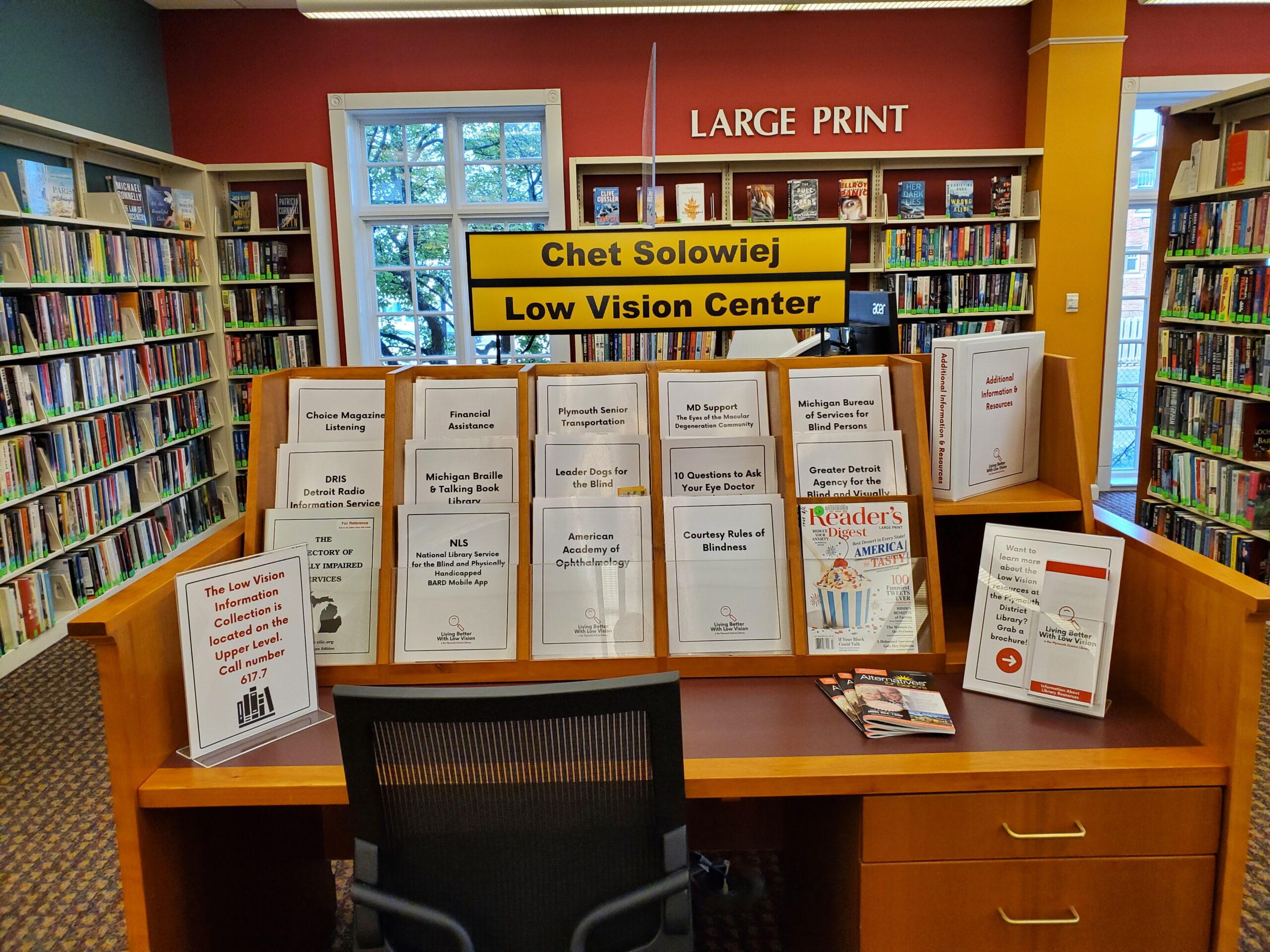 Plymouth District Library Low Vision Center
Stop by our Low Vision Center on the main level for information and resources on vision loss. Our Low Vision Center is named after Chet Solowiej, former Board member, volunteer and library booster. As an active member in the Plymouth Lions Club, Chet helped the library secure Lions Foundation grants facilitating the development of our large print books, audio books and magnifier collections.
The Plymouth District Library is pleased to offer the following services for people with visual impairments:
– Handheld magnifiers: Magnifying glasses in a variety of sizes and levels of magnification are available for checkout. As for more information at the Reader's Advisory desk on the main level.
– Desktop magnifier: This closed circuit video system (Optelec CCTV) provides high power magnification and contrast controls.
– Low Vision computer: A computer with ZOOM Software, large screen monitor, large print keyboard and Internet access is available behind the information section of the Low Vision Center.
– Large Print Collection: The library offers over 3000 large-print books including fiction and non-fiction. These books can provide a more comfortable reading experience for those with vision impairments. Additional large-print titles may be obtained through interlibrary loan.
– Low Vision Information Collection: Books on low vision and vision loss are located on the upper level, call number 617.7.
– Audiobooks: Are available on CD and Playaway, as well as downloadable audiobooks available through Libby/Overdrive or Hoopla.
– Braille Collection: There is a selection of Youth Braille books available for check out on the lower level.
Download a copy of the Low Vision Center Brochure. 
Low Vision services, adaptive technologies, book collections, pamphlets, magnifiers, and digital talking book players, are provided by The Plymouth District Library, Friends of the Library, Plymouth Lions Club, and others.
updated 08/17/21 sv