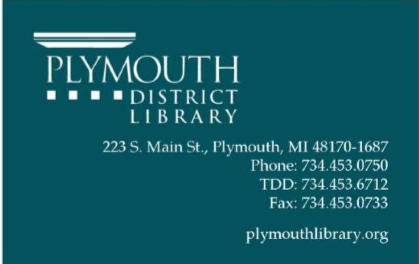 During this shutdown for Coronavirus (COVID-19), due dates have been automatically extended, including MeL interloans. Please refer to our Frequently Asked Questions for more information. Our book drop is also closed during this time, so we would appreciate everyone holding on to their currently checked out materials until we reopen. If for some reason your Plymouth Library card isn't working or letting you access our electronic content, please contact us right away. 
Online Application
If you are a resident of, or work in either the City of Plymouth or Plymouth Township you are eligible for a free library card. You can apply online. This will give you a temporary card and once we are open again, you can get your permanent card.
Apply for a library card
Residents of other communities are welcome in the library and we can add your card to our system. Please be aware that our electronic content is only available for Plymouth Library card holders.
You can download our circulation policy here.