Ancestry Library Edition
Ancestry is available remotely through June 30, 2021.
Plymouth residents need to log in using their library card and pin number at the link. With over 1.2 billion records in over 3,000 databases, Ancestry is the most comprehensive online source of information for genealogy and local history. Available for Plymouth card holders only.
---
Fold3: Fold3 provides convenient access to military records, including the stories, photos, and personal documents of the men and women who served. Military records from Canada, UK, New Zealand, and Australia are also included. Available for Plymouth card holders only.
---
 Heritage Quest  is a comprehensive treasury of American genealogical sources—rich in unique primary sources, local and family histories, and finding aids. Resources of particular interest to African Americans are the Freedman's Bank records. More than 480,000 names of bank applicants, their dependents, and heirs from 1865–1874, offers valuable data that can provide important clues to tracing African American ancestors and researching the Reconstruction Era. Available for Plymouth card holders only.
---
My Heritage Library Edition: Family history/genealogy resource including more than 6 billion historical ​records from the United States, Europe, Latin America, and other regions. Includes the full USA federal census (1790-1940); census of England and Wales (1841-1901); U.S. World War II Army Enlistment as well as records of Union and Confederate Civil War soldiers. Over 2 billion family trees.
---
Family Search is a genealogy organization operated by The Church of Jesus Christ of Latter-day Saints. It was previously known as the Genealogical Society of Utah and is the largest genealogy organization in the world. Family Search also has extensive research support and helps, especially for the beginner.
---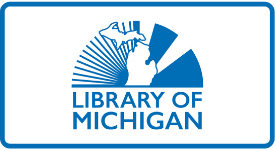 Michigan Newspapers – Library of Michigan – Contains links to Michigan Newspaper finding aids for news or obituaries by City and County, a list of newspaper holdings on microfilm, newspaper family histories and other newspaper resources. Other newspapers can be found on the Newspapers and Periodicals page.
---
The Detroit Free Press is the largest daily newspaper in Detroit, Michigan. The paper started publication in 1831.
Detroit Free Press (1999-Current)
Detroit Free Press (Historical 1831-1922)
Detroit Free Press (Historical 1923-1999)
---
Sanborn Historic Maps – via the Library of Congress
Maps originally done for insurance purposes, these historic documents are great for local history and genealogy research.
---

The Archives of Michigan is responsible for preserving the records of Michigan government and other public institutions. The collections also include documents, maps, photographs and film from private individuals and organizations.
---
2/22/2021/dee