Making of Modern Michigan
The Making of Modern Michigan is a collaborative project involving 52 Michigan libraries. It includes local history materials from communities around the state. Michigan's unique heritage is represented through over 4,500 different subjects of photographs, family papers, oral histories, genealogical materials, and more.
---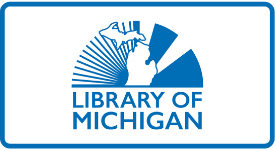 Michigan Materials – Library of Michigan
Contains information about Michigan facts and links to the Michigan Collection including County Guides, Historical Research Collections, Michigan Imprints 1851-1876, Michigan Bibliographies and the Michigan Digital Collections.
Michigan Newspapers – Library of Michigan
Contains links to Michigan Newspaper finding aids for news or obituaries by City and County, a list of newspaper holdings on microfilm, newspaper family histories and other newspaper resources.
Michigan Authors & Illustrators –Library of Michigan
A searchable database of Michigan authors and illustrators.
---
As part of the Michigan History Center, Michiganology's mission is to foster curiosity, enjoyment, and inspiration rooted in Michigan's stories​. ​ Michiganology.org began as SeekingMichigan.org 10 years ago when the Archives of Michigan and Library of Michigan partnered to deliver more than 1 million records online. Now, more than 10 million records ​are available online along with ​interesting educational materials and countless stories chronicling the everyday lives of Michiganders.
---
Michigan History Magazine is a publication of the Michigan Historical Society. A popular history magazine geared toward professionals and enthusiasts alike, Michigan History offers a wide variety of subject matter, time frames, and perspectives while inspiring, educating, and entertaining its readers.